We are so excited for
12th Annual Racca Memorial Disc Golf Tournament
Sataurday September 18th
Here we go again!!! 12th year!!!!
After such a trying year, we all need this, but no one more than this year's recipient, little Miss Shay!
All of our efforts and proceeds from this year's event will be going directly to benefit Shay and her family!
As always, this will be a one round, "bring your partner" doubles tournament with multiple divisions.
There will be plenty of exciting new twists to the event as always!
We have broken our record for most teams playing every single year and we expect the same this year!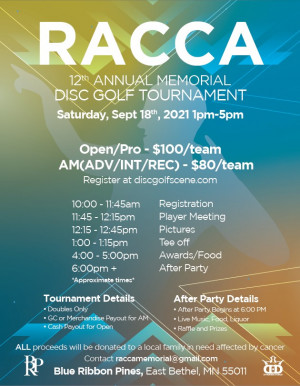 Plan on staying late into the night for live music, delicious food, side games, our unique ace race and our famous raffle!!!
Live Music includes performances from Uncle Chunk, Django Trio & More!
1901 Klondike Dr NE,
East Bethel, MN 55011